How Beneficial is Free Web Content?


Free web content sounds good to everyone, but do you really want to publish things that are not yours and may not have any validity?
When you browse to a site that is filled with free news feeds, articles from an article directory or public domain content, doesn't it make you lose creditability for the website publisher?
I have to tell you, for me it does. I respect a website owner and find their information much more credible if their content is original and reflects their knowledge.
You may be thinking, "I can't write!"…
If you honestly can't, then
hire a content writer
to write original website content for you. But, if you're game, you can take this free course and learn how to write your own website content.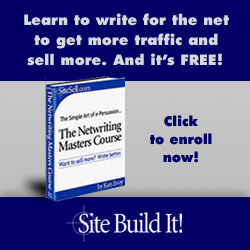 Advantages of Writing Your Own Content
There are many advantages of writing your own content. Here are the top five…
#1: Original content improves your credibility

#2: You won't face any penalties for duplicate content

#3: Your content reflects your personality

#4: It gives you the opportunity to share your knowledge

#5: You can choose your own keywords

#6: Your content will say what you really want to say

#7: It will pre-sell your products and/or services

#8: The readers will develop a sense of who you are and what you have to offer

#9: Visitors will have more confidence in you and your business

#10: Your offers won't seem to be a scam
It is easy to determine whether free web content was copied or if the website content is original. Your content should reflect what your business is really about. Don't blow your credibility by publishing free content.
Take the free Netwriting Masters Course. If you feel that you cannot write your own website content then check out our content writing services . We have the ability and skill to develop original web content for you.
Does it Make Sense to Provide Free Financial Content?
If you have read much of my writing, you know that I am dead-set against using free website content. However, it does make sense to use free content in regard to providing rates on stock, bonds, interest rates,
Libor rates
and so forth, if you are responsible for financial website.
It will ensure that the rates that you are providing to your readers are correct. It would be an enormous task to provide such information by reading the Wall Street Journal and updating indexes and such.
In Regard to Your Website Content for Attracting Visitors to Your Website…
I definitely do
not
recommend using
free website content
. To understand why, please read the article on
The Importance of Website Content